Organic Pomelo Juice
Melt belly fat fast with only 3 pomelo juice bottles  
Volume: 500ml
Gender: Unisex
Type: Organic Herbal Supplements
Origin of Place: Tien Giang province, Viet Nam
ORGANIC POMELO JUICE LONG THUAN
100% Organic Pomelo Extracted
MAGIC BENEFITS OF POMELO JUICE: 
Take only 3 bottles to decrease your belly size and remove black pigmentation.
✅ The product doesn't only help to lose weight, reduce fat in the liver, blood but it also provides nutrients for healthier. 
✅  Suitable for both men and woman.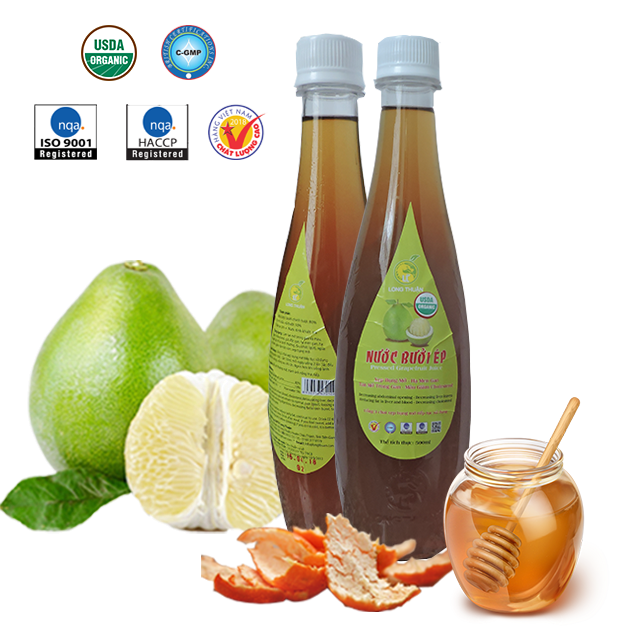 1. Reduce belly fat:
The high levels of Vitamin C, fiber, water, carnitine palmitoyl-transferase (a fat-burning enzyme) in Pomelo juice help melt the belly fat and reduce weight. 

The fiber and water even help in reducing hunger.

Pomelo juice also helps absorb, reduce the starch and sugar in the body.
2. Cleanse liver:
Glutathione is a powerful antioxidant that neutralizes the free radical damage to cells and helps in removing heavy metals from your liver.

Reduce fatty liver and lower liver enzymes. 
 3. Reduce Cholesterol naturally:
The rich antioxidant in pomelo juice can lower blood cholesterol.

Potassium in Pomelo also regulates blood pressure, lowers your chances of heart attack, and stroke.   
 SPECIAL: 
It is known that the antioxidant really does have the potential to fight a number of diseases, especially pomelo juice can prevent the formation of cancer, reduced risk of cancers.
INGREDIENTS: 
| | |
| --- | --- |
| Pure pressed pomelo juice | 80% |
| Pomelo peel oil | 10% |
| Dry tangerine peel | 5% |
| Pure water | 5% |
HOW TO LOSE WEIGHT FAST WITH POMELO JUICE:
Drink 03 times a day with 50ml each time.

Drink after the meal.

Add a little water if you taste sweet.

Remember to shake regularly before drinking.

Best served ice cold. 

QUALITY CERTIFICATIONS:
After more than 10 years established, Long Thuan has proved the value and quality of products by many quality certifications such as Organic USDA, Halal, The Asean CGMP, HACCP, ISO 9001:2008, Vietnam high-quality goods voted by consumers (from 2016-2018).

PACKAGING & DELIVERY:
Packaging Details

500ml/bottle 




24 bottles in 43*30*26 carton

Port

Ho Chi Minh 

Delivery Time

25 - 30 working days
COMPANY INFORMATION:
Company name

LONG THUAN PRIVATE ENTERPRISE

Address

Tien Giang Province, Viet Nam

Contact Informations

Mobile Phone: +84948083202 (Ms. Gitta)

Email: longthuan.pomelovn@gmail.com

Fax

+84733619305
Products brought to consumers ensures 100% organic and purity, even the preservatives to keep the product not be damaged are also natural sources. So absolutely no irritation, side effects for users. This is the secret key that Mr. Doan Van Khanh (The founder of Long Thuan) may create the product line is not only effective but also very safe.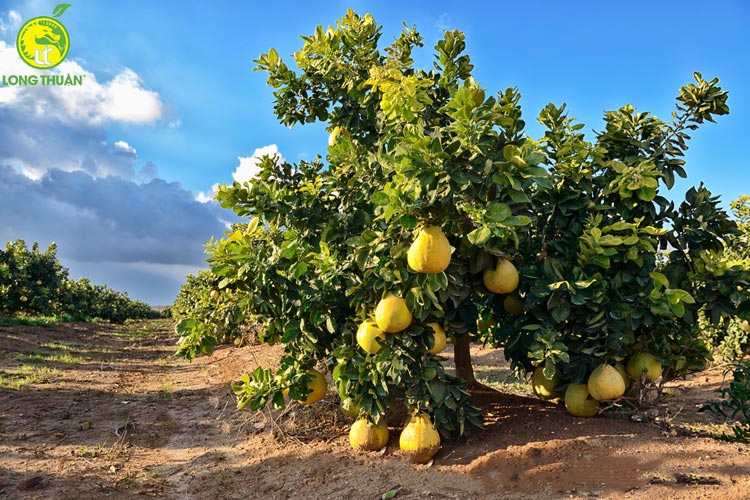 A large farm in Tien Giang province with an area of 8,000 m2 specialized pomelo, wax coconut, kinds of ginseng that are grown and processed according to the production closed link chain. Ensure sufficient supply for the production lines for tens of thousands of tons a year of business.
 

The export representative of LONG THUAN PRIVATE ENTERPRISE.

Official agent in Ho Chi Minh City: Always support, consult dedicatedly to help you understand our products.

Mobile Phone: +84 94808 3202